The origin of the name "Sheriff Brow Viaduct" is currently unknown.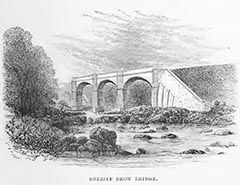 F. S. Williams included a line-drawing of this viaduct in his book "The Midland railway: its rise and progress. A narrative of modern enterprise" (published by Strahan & Co, London, 1876) and labelled it 'Sheriff Brow Bridge' (see extracted image, right).
On the Midland Railway Company's distance diagram dated 1913 (as published in "The Midland's Settle & Carlisle Distance Diagrams", published in 1992 by the Cumbrian Railways Association), the viaduct is labelled thus:
SHERIF BROW VIADUCT No. 27 239m.51c.
Note the single 'F' in the spelling of Sheriff.
However, there is no reference to "Sheriff Brow" (with either one 'f' or two) on current or historic Ordnance Survey maps of the area.
The viaduct spans the River Ribble and the adjacent section of road is labelled 'Sherwood Brow". (The latter is the source of one of other names known to have been applied to Bridge 27.)
In general terms, the origin of place names can be difficult, often impossible to trace with any degree of certainty and place names are often corrupted or otherwise altered over time, often without any record of the reason for the change. Many variants originate via short-hand notes, mishearing, misspelling, standardisation of spelling, transcription errors or other mistakes, which are then perpetuated through re-quoting.
If you have any information regarding the origin of the name please contact us (refferring to "Sheriff Brow Viaduct" in the 'Message' field).