Welcome to the
Settle-Carlisle Railway Conservation Area
(SCRCA) web-portal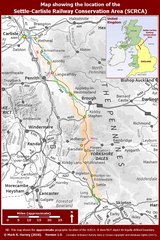 The Settle-Carlisle Railway Conservation Area is a 78-mile section of mainline railway in northwest England that is considered to be an area of special architectural and historical interest.
In a bid to preserve the character and appearance of this historically important section of Britain's national rail network, it was officially designated a conservation area in 1991.
It is the longest conservation area in the United Kingdom and it covers the entire railway (including all of the asssociated historic structures) between Hellifield Junction in North Yorkshire and Carlisle Citadel Station in Cumbria.
The adjacent map shows the location of the SCRCA and the photo-montage below gives a flavour of what the conservation area has to offer.
As evidenced by many of the photographs, this fascinating railway passes through - and provides easy access to - some of the most attractive and dramatic scenery in England.
Our goal in creating the Settle-Carlisle Railway Conservation Area (SCRCA) web-portal is to facilitate and encourage the interpretation, management and public enjoyment of this unique piece of the UK's transport and architectural heritage.
The Settle-Carlisle Railway Conservation Area:
architecture and landscape in perfect harmony.
Grand Tours
If you've plenty of time, make yourself comfortable, then use one of the links below to take a virtual grand tour of the entire conservation area:
Heritage Hotspots
If you've limited time, or if you're seeking ideas for a real-world visit, check-out the following 'highlight' locations. They're all easily accessible by train, although please do NOT attempt a real-world visit by train while travel restrictions relating to the coronavirus outbreak remain in place as capacity is significantly reduced due to social distancing measures).
Background Reading
A series of general articles accompanies and expands upon the location-specific information.
If you'd like to learn more about the SCRCA Project, start with the Introduction and Overview.
To learn more about conservation areas and the reasoning behind the project, see Background and Context.
If you think you might be able / willing to help us with the project, see Getting Involved.
SCRCA Showcase
Extracts and links from recent offline articles
The second FoSCL members' emergency newsletter published on 28th April, 2020 featured the following brief article (which was repeated in the May 2020 edition of the FoSCL Journal):
Virtual Visits and trips down memory lane

Sadly, the lockdown restrictions mean that most of us are currently prevented from making a real world visit to the Settle-Carlisle railway. However, we can still make a 'virtual visit' via the following page on the FoSCL website:
https://www.foscl.org.uk/content/virtual-visit
This webpage includes links to
* A small image gallery.
* The webcams at Ribblehead, Horton-in-Ribblesdale and Kirkby Stephen.
* The SCRCA Project database (which now boasts more than 7,000 photos of railway-related structures between Hellifield and Carlisle, plus hundreds of related articles and potentially interesting 'snippets' of information).
* The 'Explore More' system (with its high-quality aerial imagery and a steadily expanding collection of old photographs and other interesting material).

This period of relative confinement may also be an opportunity for some of us to take a trip down 'memory lane' by reviewing (and perhaps indexing and / or digitising) our personal collections of photos, videos and cine-film footage. If you are inspired to do this, please keep in mind that the SCRCA Project team is actively seeking images showing railway-related structures within the conservation area, especially structures that have been demolished or significantly altered. For more information about the type of material we're looking for, please refer to our "Plea for Information and Images" on the SCRCA Project website at:
https://scrca.foscl.org.uk/plea-information-and-images

Finally, those with a nostalgic interest in the Settle-Carlisle line may enjoy the following 'free to view' clips available in the British Film Institute's online archive:

A 25 minute long Yorkshire Television documentary from 1985 entitled"End of the Line?":
http://player.bfi.org.uk/film/watch-end-of-the-line-1985/

A 51 minute film made in 1963 by members of Halifax Cine Club entitled "The Long Drag":
http://player.bfi.org.uk/film/watch-the-long-drag-1963/

During the filming trips for the latter, a significant number of still photographs were also taken and 65 of these have been uploaded to the SCRCA Project database courtesy of Steve Horsfall. They can be accessed directly via:
https://scrca.foscl.org.uk/gallery?field_scrca_image_contributor_target_id=9749&sort_by=title&sort_order=ASC

Hopefully, this brief 'Settle-Carlisle line diversion' will help you to pass a pleasant few hours during this difficult time.
The November 2019 edition of the FoSCL Journal includes an article about the construction of Blea Moor Tunnel. If you'd like to follow-up this article, the following pages offer a good starting point:
Get in Touch
If you'd like to get in touch with the SCRCA Project Team, you can contact us.