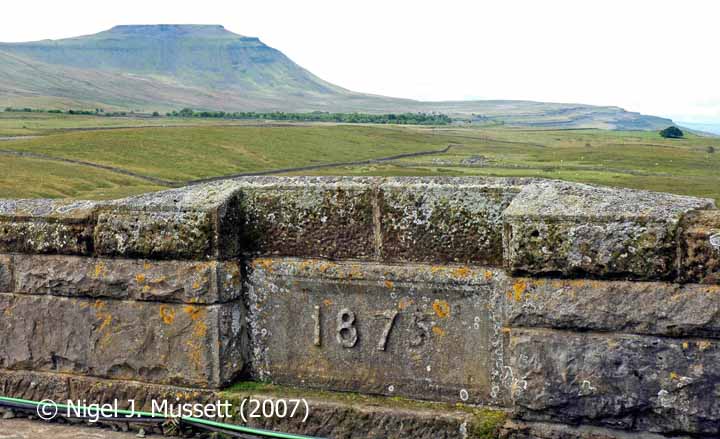 Brief description of image
Ribblehead Viaduct: The track-facing south-western datestone (1875).
Image Contributor
SCRCA Project Contributor: Nigel J. Mussett
Contributor's Reference
RHV 013. 1875 internal damaged datestone
This photograph was taken during the specially organised "Ribblehead Viaduct Walk" event on 22nd July 2007. The line was closed for engineering works and specially trained guides were authorised to accompany pre-booked groups across the viaduct under the close-supervision of Network Rail personnel.
While the datestone on the north-eastern side faces outwards in the normal manner, the one on the south-western side faces inwards (i.e. it faces the rails). A close examination of this second datestone reveals that the top of the number five is missing. It is speculated that the datestone was damaged during carving or installation and that it was installed with the date facing inwards rather than outwards to avoid additional expense, delays and / or embarassment.
The flat-topped hill in the distance (top-left) is Ingleborough.