Source: "The Midland railway: its rise and progress. A narrative of modern enterprise" by Frederick Smeeton Williams, published by Strahan & Co London (1876). The following extract is from pages 497-498:
Meanwhile the task of erecting the viaduct at Batty Moss was laboriously carried on. It stands on the watershed of the Ribble and on Little Dale Beck, and is the largest work on the line, consisting of 24 arches, the height of the loftiest from the bottom of the foundation to the level of the rails being no less than 165 feet. The arches are each of 45 feet span, and they are nearly semicircular in shape. The foundations have been carried 25 feet down through the peat-washing and clay, and they all rest upon the rock. The arches are of brick; and in constructing them, an arch was finished in fine weather every week, the first five of them being completed in five weeks. It is estimated that a million and a half of bricks were used in these arches. The work is of the most solid and durable character, and the stones are of very large dimensions, some of them weighing seven or eight tons, and many courses being from three to four feet in thickness. Every sixth pier is made of enormous strength, so that if, from any unlooked for contingency, any one arch should ever fall, only six arches could follow. The lime used for mortar is hydraulic lime from Barrow-on-Soar. The first stone of this vast structure was laid by Mr. William Ashwell, October 12th, 1870; and the last arch was turned in October, 1874. Our engraving represents the Batty Moss Viaduct in course of construction. As many viaducts embellish these pages, it was thought it would be more agreeable to the reader to have some of them depicted in some intermediate stage of their erection.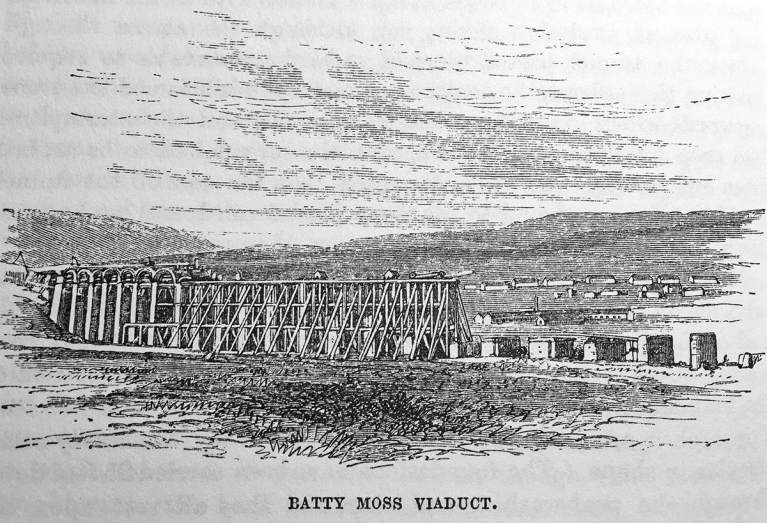 Acknowledgements
The image of the viaduct under construction was obtained from an original copy of the book held in the collection of Midland Railway Study Centre in Derby. It was kindly supplied by Dave Harris, the Study Centre Co-ordinator.