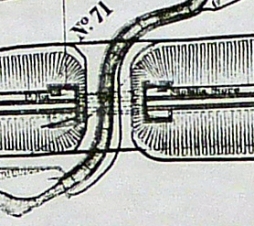 A small structure, rectangular in plan and labelled 'Naptha Store', is clearly shown on sheet 20 of the 1911 set of Midland Railway Company 'land plans' - see extract, right or below. (Although the wording of the label is not clear on the photograph of the land plan, it is clearly readable on the 'original' document, which forms part of the FoSCL archive.)
This structure is located at the foot of the western retaining wall (between the retaining wall and the 'Down' - i.e. northbound main running line), immediately to the north of Bridge 71 (Force Gill Aquaduct).
It is extremely likely (almost certain) that the three-walled structure visible on this site today is what remains of the 'Naptha Store' marked on the land plan.