When the Settle & Carlisle Railway was being constructed in the 1870s, the Midland Railway Company's architect John Holloway Sanders (1826-1884) created a set of three standard designs for the single-storey main station buildings.
Figure 1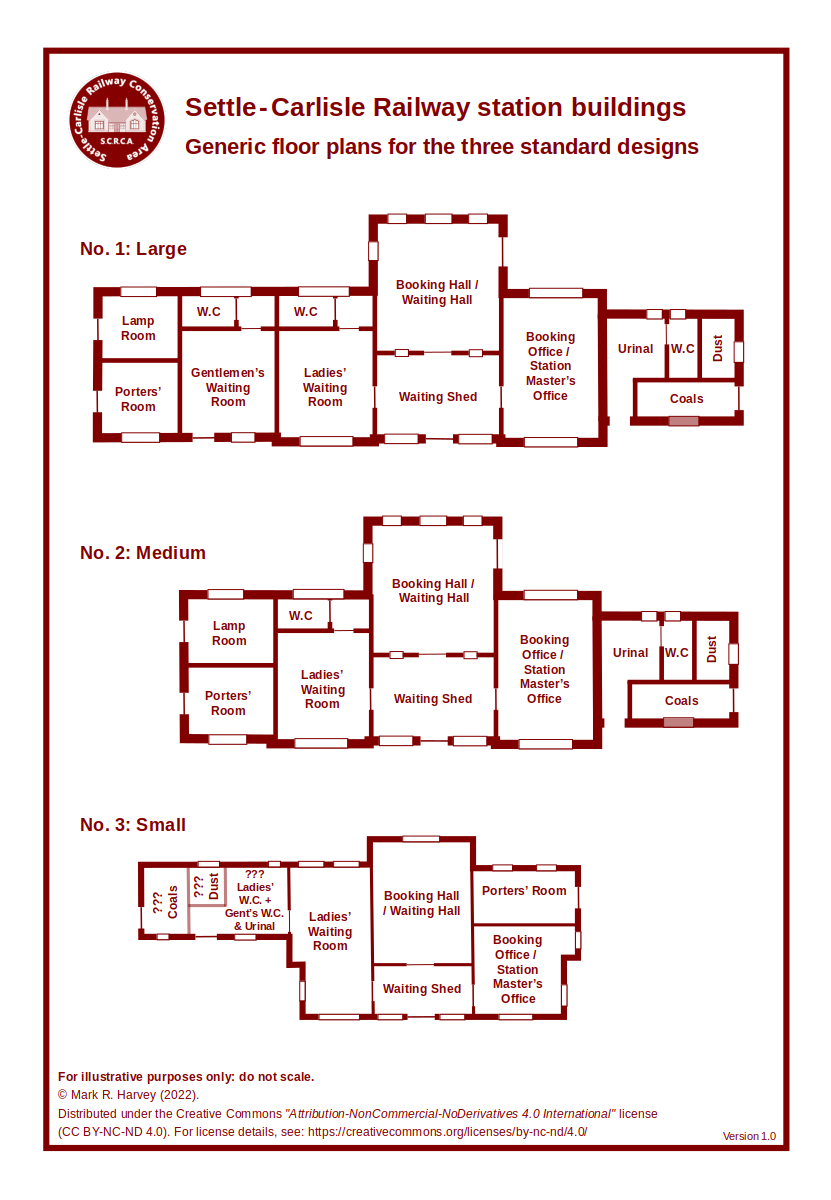 The differences and similarities in size and room layout are illustrated in the accompanying set of generic floor plans (see Figure 1).
The "No. 1" or large variant was reserved for Settle, Kirkby Stephen and Appleby (the three market towns served by the main line).
The "No. 2" or medium variant was provided at Crosby Garrett (demolished), Long Marton, Langwathby, Lazonby & Kirkoswald, Armathwaite, Cumwhinton and Scotby.
The "No. 3" or small variant was used at Settle Junction (demolished), Horton-in-Ribblesdale, Ribblehead, Dent, Ormside, New Biggin, Little Salkeld and Cotehill (demolished). It was also considered sufficient for the branch line station at Hawes, despite the fact that this served a market town and was a 'joint' station (with the N.E.R.).
In terms of accommodation, the small variant included:
a booking office / Station Master's office;
a booking hall / waiting hall;
a waiting shed (enclosed porch);
a ladies' waiting room; and
a porters' room.
It is likely that the single side extension included a coal store, a dust store and separate toilet facilities for ladies & gentlemen. (For the large and medium variants, all of these facilities are clearly labelled on contemporary plans. However, we've not yet managed to obtain documentary or other conclusive evidence confirming their provision or exact layout for the small variant. If you can help with this, please contact us.)
The medium and large variants included similar accommodation to the small variant, but the key rooms were larger. Also, additional rooms were provided to suit the anticipated higher levels of passenger traffic and associated staffing requirements. The medium and large variants benefited from a dedicated lamp room, while the large variant also featured a separate Gentlemen's waiting room and adjacent W.C.
Despite their differences in size and accommodation, the three standard designs share a number of common design characteristics including:
a combined booking hall and general waiting room (projecting to the rear, with a gabled roof);
a fully enclosed porch or waiting shelter on the platform side (with attractive wrought iron framed glazing);
a pair of gabled projections (sometimes referred to as 'gabled pavilions') on the platform side (one on each side of the waiting shelter);
an extension to one or both sides (to provide additional accommodation);
steeply-pitched slate roofs (to cope with the wet, windy and sometimes snowy Pennine weather);
decorative chimney stacks;
decorative ridge tiles (in most cases);
decorative (often fretted) bargeboards on the gable ends; and
a decorative embrasure (recess) or carved stone trefoil / quatrefoil in many of the gable walls.
This distinctive style has become known as 'Derby Gothic', although the only truly Gothic features are the steeply-pitched gables, the trefoils / quatrefoils and the small number of pointed-arch window heads and these are illustrated in Figure 2.
Figure 2 also illustrates an easy way to distinguish between the three variants: count the number of chimney stacks - 4 for large, 3 for medium and 2 for small.
Acknowledgements
Text and photographs by Mark R. Harvey (© Mark R. Harvey, 2022).